The Dungans are Chinese Muslims who reside in Central Asia. In China they are referred as the Hui, totaling around 10 million. Towards the end of the Qing Dynasty (late 1800s) they participated in a bloody rebellion against the government. Their struggle eventually failed forcing many to flee. They went west over a spur of the Tianshan mountains to what is now Kyrgyzstan and Kazakhstan. Getting there was difficult and required trekking through high mountain passes and tracing the original silk roads. A group settled down in the city of Karakol (previous known as Przhevalsk city, name after the Russian explorer) on the eastern side of Kyrgyzstan near the eastern tip of Lake Issyk-Kul.
Before long the Dungans of Karakol hired a Chinese architect to design a mosque in the Chinese architectural style. It was built by craftsmen from China with locally sourced material. From across the road the structure resembles traditional Chinese temple. Up close you can clearly see carving of dragons and fruits like persimmon commonly portrayed only in the East. Next to the mosque stood a minaret, topped with a crescent distinguishing it as a mosque (It's a replaced wooden structure which doesn't fit the architectural style of the mosque). Further right are the quarters used for cleansing before prayers which affirms this compound is indeed a mosque.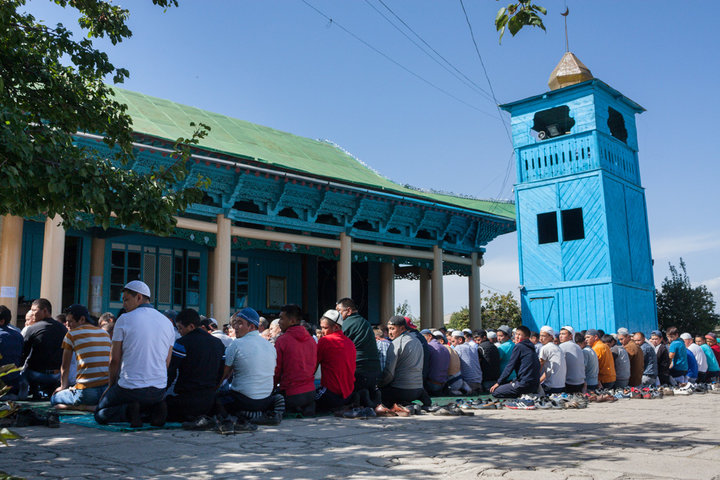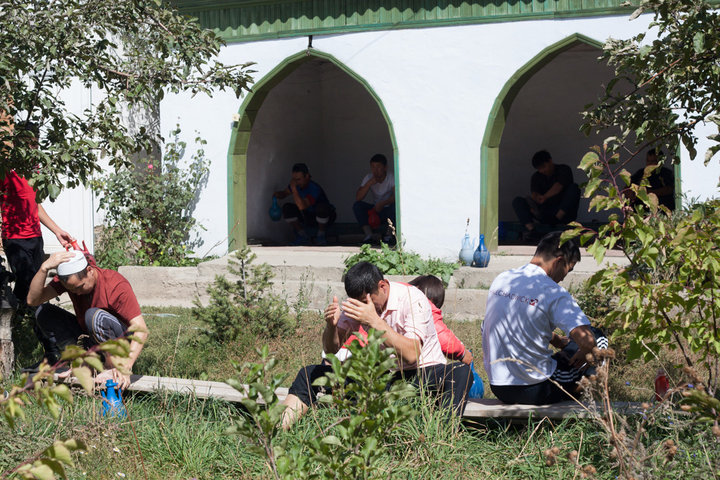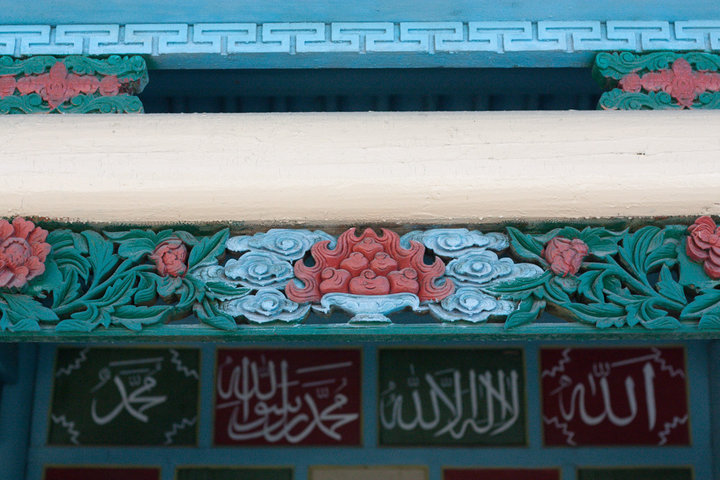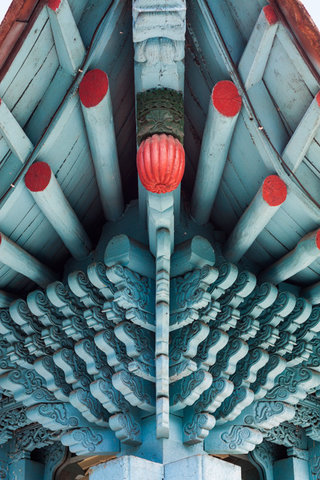 I visited the mosque on Friday for the Friday prayers in order to take photos. Having witnessed numerous Jumuah in Central Asia what made this special was the back drop of the Chinese mosque. After the prayers I took the opportunity to go inside of the prayer hall. The interior was also distinctly Chinese but incorporates Islamic characteristics. Directly above in the ceiling were sets of Chinese inscriptions hidden in the rafters. Aside from the inscriptions a prayer bead hangs on the ceiling of the mosque.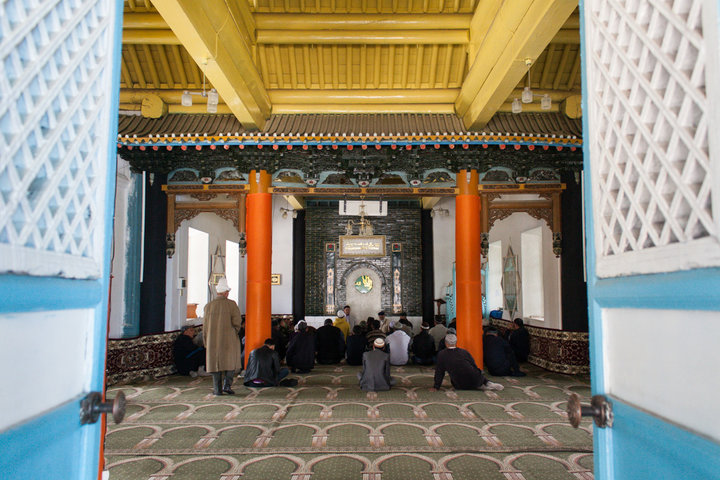 Chinese inscriptions left by the builders were written on two sets of planks each with two phrases. One local saw me reading the text and asked me to translate. Although many Dungans are still using Chinese, few can read the characters since they use Cyrillic to represent Chinese phonographically.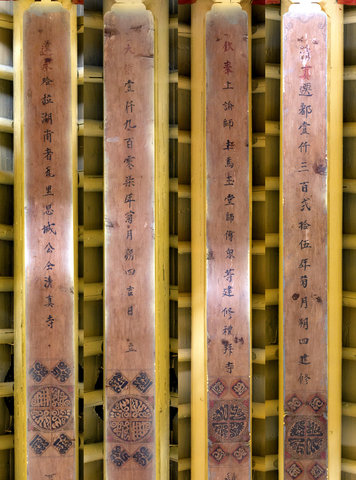 Before writing this article I did a bit of research to produce the complete translation.
From left to right,
遵奉哈拉湖甫者瓦里思城公仝清真寺
Acting on behaves of Karakol, Przhevalsk city public mosque

大俄壹仟九白零柒年菊月朔四吉日立
Built on 1907 September 4th a lucky day in the Russian calendar

欽奉上諭師主馬玉堂師傅眾等修禮拜寺
Carrying orders from above, master Ma YuTang and others construct the mosque.

清真遷都壹仟三百貳拾伍年菊月朔四建修
Constructed on the 4th day of the 9th month in the year of 1325 in the Hijri calendar.
Despite over 300 thousand Dungans in Central Asia few people associate the regions with Chinese diaspora. The history of these people is rarely mentioned even within China. Before coming to Central Asia I have never heard of Dungans but now I have met them.
---